Public Adjusters for Wildfire Damage
Property claims for wildfire damage can be managed when working together with our public adjusters. As your insurance company arrives with its team, it is important to have professionals on your side to develop a claim strategy to get your business back on its feet sooner.
Our expert adjusters move efficiently to evaluate and document the full scope of your damages and negotiate a maximum claim settlement to get you up and running.

If your commercial property is damaged in a Colorado wildfire, we understand your initial focus is on protecting your employees, operations, and customers. That alone can be a full-time job, as can be the next step of handling your commercial property insurance. When it is time to file a claim, your insurance company will provide its own insurance adjusters to negotiate your property damage settlement. Who's looking out for you?
Our team of public adjusters will work on your behalf in the insurance claim process. As your trusted advisors, we are fluent with insurance policy terms and conditions. Our adjusters will evaluate and document your property's Colorado wildfire damage in full detail to negotiate with your insurance company for a maximum claim amount so you can get back to business sooner. Our expertise and successful history in getting fair settlements have made us the public adjusters Colorado policyholders trust most for business insurance claims related to Colorado wildfire damage. Our adjusters will help you prepare and file a claim to get you more, sooner.
The Adjusters International Matrix Business Consulting Offices
What To Focus On After Wildfire Damage
Make sure you fully understand the meaning of each of the following before you move forward. Feel free to reach out to us for a no-cost discussion about your claim.
What is my agent/broker's role?

The insurance company hired a construction estimator. What do I need to know?

What is covered for wildfire damage?

Why is a claim strategy so important?

Am I impacted by coinsurance?

How has my insurance company handled past wildfires?
Property Damage Losses Commercial Claims Recovery Process
Property Damage
Time Element
Life & Safety Issues
Mitigation of Damages
Establish A Preliminary Recovery Plan
Evaluation of Coverages
Valuation Of Damages, Claim Preparation, and Documentation
Negotiations & Settlement
Restoration Of Property & Operations
How Our Public Adjusters Help You
Evaluate

Fully reviewing your insurance coverage.

Strategy

Developing a claim management strategy.

Compliance

Determining policy compliance issues.

Valuations

Completing detailed valuations of building, equipment and inventory losses.

Interruption

Formulating business interruption models.

Itemization

Presenting and supporting an itemized claim package to your insurer.

Negotiation

Negotiating on your behalf with your insurance company.

Communication

Keeping you informed every step of the way.

Settlement

Ultimately settling the claim for the maximum amount and with less hassle for you.
Industries Our Public Adjusters Have Helped
Client References & Testimonials

Client References

A-1 Custom Trophies, Inc. - Westminster, CO

A1 Vacuum Cleaner - Albuquerque, NM

AAMCO Transmission - Pueblo, CO

Abbey at Cherry Creek HOA - Denver, CO

Acacia Equities - Thornton, CO

Academy Of Beauty Culture, Inc. - Kennett, MO

Acadian Seafood Restaurant - Baton Rouge, LA

Advanced Energy - Ft. Collins, CO

AIMCO Properties - Boulder, CO

Albuquerque Allsuite - Albuquerque, NM

Allstone Ski Tools - Golden, CO

Alpha Dental Care - Aurora, CO

Alvarado Apartments - Albuquerque, NM

American Design Inc. - Denver, CO

American Federal Bank - East Grand Forks, MN

American Foodsource Corp. - La Junta, CO

American Yacht Harbor - Red Hook, St. Thomas, US Virgin Islands

Americold Corporation - Kansas City, KS

Ammons Park Home Owners - Lakewood, CO

Andrews Metal Technologies - St. Louis, MO

Testimonials

Months after the storm passed, the County was still faced with tremendous burdens related to the insurance coverage issues and FEMA and MEMA eligibility issues. Jackson County hired Adjusters International to provide professional services for disaster assistance, remediation, restoration and recovery efforts. ...Their expertise with governmental regulations, the complex FEMA process and insurance adjustments resulted in our successful claim for over $2 million in additional FEMA Public Assistance funding specifically; in our successful negotiations with our insurance carrier; and in numerous other increases in the values FEMA and MEMA initially designated for County projects. Jackson County will always be mindful of the help we received from Adjusters International when we needed it most.

Alan K. Sudduth

County Administrator - Board of Supervisors, Jackson County, Mississippi

As soon as we engaged your company, you were able to cut through the bureaucracy and reach the key decision makers. You kept us informed of each twist and turn of your investigation. Within months of your engagement, we had our check in hand. We felt comforted and confident that our situation was given the prompt attention that was needed. I would recommend your services to any in this situation.

Anthony & Barbara Black

Homeowners

Case Studies

In the dark hours before dawn in January, a sudden burst of torrential rain hit the town of Montecito in Southern California, dumping a half-an-inch of water within five minutes.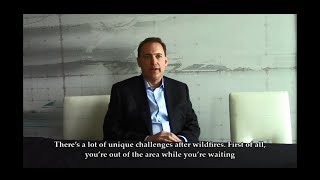 Steve Severaid, Principal at The Greenspan Co./Adjusters International discusses some challenges of wildfire claims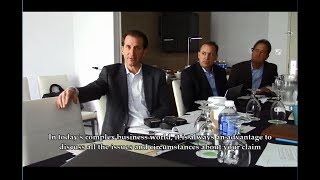 Carl Gross, Vice President and CAO at Globe Midwest/Adjusters International discusses why business owners should use a public adjuster
During today's discussion, we will explore the important areas of risk management and property insurance that must be addressed, to be prepared for the destruction that can be caused by future wildfires
Contact Us
If you're suffering from a commercial property claim, we can help!
( * ) indicates required field