Public Adjusters for Homeowners Earthquake Damage
An earth-shaking occurrence does not have to be earth-shattering. Our public adjusters work only for you in dealing with your insurance company and assessing your full property damage as we manage and file a claim to get you the optimum amount for your family.
An earthquake can destroy or compromise the safety of your home. Our public adjusters provide the experience and guidance you need to make an educated decision while filing a claim on your path to rebuild.
Earthquake damage to your property can be immediately apparent or hidden. For instance, a seismic shift could crack and unsettle the structural integrity of your property without you even knowing about it. This could make your family's home vulnerable to future damage and collapse, making your home unsafe.
Our team of professional adjusters has unmatched experience in earthquake damage and risk assessment for evaluating your coverage for a future catastrophe. We work for you, the policyholder, to make sure all property damage is evaluated and documented. We negotiate a maximum claim recovery so you can have the means to provide a safe home for your family.
The Adjusters International Matrix Business Consulting Offices
What To Focus On After Earthquake Damage
Make sure you fully understand the meaning of each of the following before you move forward. Feel free to reach out to us for a no-cost discussion about your claim.
Why is a claim strategy so important?

How much do I really need to know?

How can I afford such a large deductible?

How important is having my own engineer?

How do I deal with hidden damage?

How can I minimize the emotional toll on my family?

Is there anyone on my side?

Big deductibles demand that your claim be properly evaluated. How can you afford to rebuild your house with such a large deductible? Understanding claim strategies and value engineering are important.

Successful evaluation of damages hinges upon a well-coordinated effort between engineers and construction consultants. Do you have the right experts lined up? Should you only rely on the insurance company's cadre of experts?

Are you familiar with how insurance companies have handled past earthquakes? How does it affect you?

Ensuing fire or water damage from an earthquake can be covered depending upon the policy.

What is concurrent causation? Why is it important in an earthquake claim?

How do you make certain that hidden damages are addressed?

How does a large-scale disaster affect recovery? Replacement/reconstruction prices?

How does a large-scale earthquake affect your additional living expense claim?
Property Damage Losses Homeowners Claims Recovery Process
Property Damage
Time Element
Life & Safety Issues
Mitigation of Damages
Establish A Preliminary Recovery Plan
Evaluation of Coverages
Valuation Of Damages, Claim Preparation, and Documentation
Negotiations & Settlement
Restoration Of Property & Operations
Homeowners We Have Helped
Client References & Testimonials

Client References

A-1 Custom Trophies, Inc. - Westminster, CO

A1 Vacuum Cleaner - Albuquerque, NM

AAMCO Transmission - Pueblo, CO

Abbey at Cherry Creek HOA - Denver, CO

Acacia Equities - Thornton, CO

Academy Of Beauty Culture, Inc. - Kennett, MO

Acadian Seafood Restaurant - Baton Rouge, LA

Advanced Energy - Ft. Collins, CO

AIMCO Properties - Boulder, CO

Albuquerque Allsuite - Albuquerque, NM

Allstone Ski Tools - Golden, CO

Alpha Dental Care - Aurora, CO

Alvarado Apartments - Albuquerque, NM

American Design Inc. - Denver, CO

American Federal Bank - East Grand Forks, MN

American Foodsource Corp. - La Junta, CO

American Yacht Harbor - Red Hook, St. Thomas, US Virgin Islands

Americold Corporation - Kansas City, KS

Ammons Park Home Owners - Lakewood, CO

Andrews Metal Technologies - St. Louis, MO

Testimonials

Months after the storm passed, the County was still faced with tremendous burdens related to the insurance coverage issues and FEMA and MEMA eligibility issues. Jackson County hired Adjusters International to provide professional services for disaster assistance, remediation, restoration and recovery efforts. ...Their expertise with governmental regulations, the complex FEMA process and insurance adjustments resulted in our successful claim for over $2 million in additional FEMA Public Assistance funding specifically; in our successful negotiations with our insurance carrier; and in numerous other increases in the values FEMA and MEMA initially designated for County projects. Jackson County will always be mindful of the help we received from Adjusters International when we needed it most.

Alan K. Sudduth

County Administrator - Board of Supervisors, Jackson County, Mississippi

As soon as we engaged your company, you were able to cut through the bureaucracy and reach the key decision makers. You kept us informed of each twist and turn of your investigation. Within months of your engagement, we had our check in hand. We felt comforted and confident that our situation was given the prompt attention that was needed. I would recommend your services to any in this situation.

Anthony & Barbara Black

Homeowners

Case Studies

For decades, L'Auberge Chez François has been one of the leading restaurants in the metro Washington, D.C., area. Known for its exceptional French cuisine and impressive service, the restaurant is a longtime favorite of Washingtonians celebrating anniversaries, birthdays or other special occasions.

A magnitude 6.8 earthquake, called Nisqually in seismic circles, rocked Seattle, Washington, in 2001 and severely damaged the Starbucks corporate headquarters building.

Super Typhoon Paka, as the storm came to be called, was a 12-hour session of destruction for the island of Guam. Stirring up winds in excess of 200 miles per hour, the tropical cyclone tossed buildings, planes and ships across the island like discarded toys. Among these was the headquarters of Continental Micronesia, a subsidiary of Continental Airlines. The main offices, the marketing buildings and the planes were damaged by the powerful typhoon.
As this issue of Adjusting Today® was being prepared, the earthquake and resulting tsunami of March 2011 struck Japan. That concurrence put an exclamation point on what already was the theme of this edition ...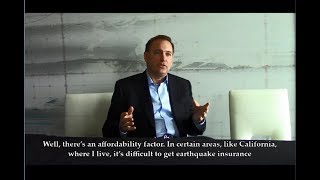 Steve Severaid, Principal at The Greenspan Co./Adjusters International answers the question, "Who needs earthquake insurance the most?"
Our expert panelists discuss the ever-changing landscape of insurance coverages in the face of disasters, natural and man-made, both common and unusual.
Contact Us
If you're suffering from a homeowner property claim, we can help!
( * ) indicates required field